We at Ampcus are Tool builders, Innovators and Service focused. We merge business domain expertise, Tools/Platforms experience and Test discipline efficiency. We provide end-to-end application testing solutions, such as: System & Integration Testing, End to End Testing, User interface & Usability Testing, Compatibility Testing, Web Solutions Testing, ERP Testing, Product Testing, Complying Testing.
Our frameworks, techniques requirements and accelerators assist us to produce significant business value to our clients. Working as an extendable to your company, we provide knowledge, expertise, and productivity in-order to lower your Quality costs and enhance the quality of your IT solutions.
OUR APPROACH
Security Testing Services:
Maintenance, protection and confidentiality of customer information is the main concern for all organizations. Ampcus offers manual penetration testing services to companies of all sizes. We probe for the most common security and privacy vulnerabilities to catch issues that automated vulnerability scanning tools miss while lowering the overall cost of security testing and ranking up your company's application security procedures to catch problems that automated susceptibility scanning tools skip out while decreasing the total cost of security testing.
Mobile Testing services:
Ampcus offers mobile testing services for both functional and non-functional testing of mobile applications.
Ampcus Mobile Testing Services include:
Mobile Test Advisory Services
Mobile Functional Testing (Manual & Automated)
Mobile Test Tool Feasibility
Mobile Performance Testing
Mobile Test Automation Framework Development
Mobile Security Testing
Core Testing:
We at Ampcus, value transparency and our goal is to evaluate the well-designed components efficiently. We process framework based methodology whenever conducting functional, GUI, Database and Regression testing.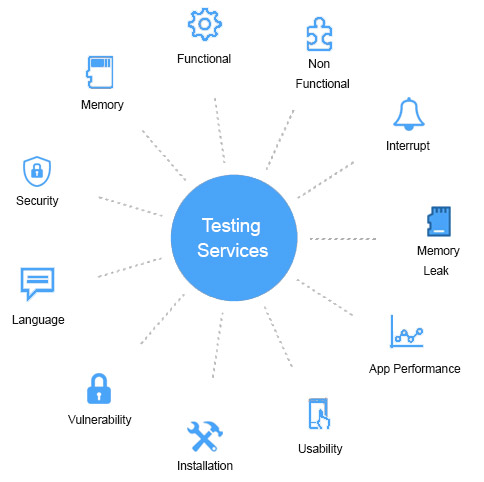 Test Automation:
Ampcus Test Automation Accelerator assists customers to speed up the automation of their well-designed application for regression testing. The solution allows end-to-end test automation of innovative programs across several technological. We use several accelerators to design Agile test approaches which fulfill your customer requirements for digital testing, mobility testing, cloud testing, data testing, security testing, ERP implementation testing, overall performance testing and automation testing solutions.
Quality Assurance Services:
Our QA experts can complete an evaluation on your current testing practices according to the maturity, we can easily come up with the ideal strategy which impresses your organization, then implement to handle it for you. We have the proven success history in software program testing – over 150 enterprise businesses have reliable expansion with their QA requirements.